CHIPCELL CARBON
Introduction
What is CHIPCELL CARBON?
CHIPCELL CARBON is a EDLC or super capacitor type small and ultra-small carbon secondary battery product from Korchip. The CHIPCELL CARBON product is a future Green energy storage device with millions to tens of millions of times the capacity of a typical capacitor.
The CHIPCELL CARBON product serves as an auxiliary power source for storing data when the electrical/electronic device is disconnected and maintaining the RTC (Real Time Clock) embedded in the circuit. With the development of network technology, many new electrical/electronic devices are being created, and they are becoming a major part of the power supply.
The Advantages of CHIPCELL CARBON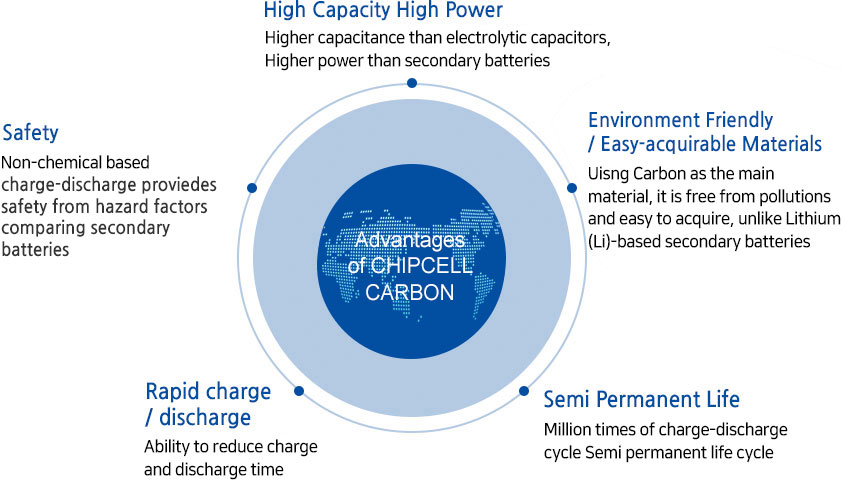 The Applications of CHIPCELL CARBON
Area
Applications
Fuction
CHIPCELL CARBON Product
IT,Consumer
Electronics
Smart Phones, PDA, Digital Camera,
SSD, Hand Tools, Home Electronics
GPS Modem
RTC Back-up, Memory Back-up
Power Assist
Coin Type, Radial Type
Mold Type, TR
Industies,
Engery
Machine Controllers, PLC, Meters
Wind Turbine, ESS
RTC Back-up, Memory Back-up
Power Assist, Regenerative Power
Energy Storage, Emergency Power
Coin Type, Radial Type
Mold Type, Rug Type
Transportation
Car DVR, Car Audio Idle Stop and Go
Voltage Stabilizer, e-Call System
Hybrid Car, Engine Cranking
Power Assist, Regenerative Power
Memory Back-up
Coin Type, Radial Type
Rug Type